Fast food workers protest outside a New York City McDonald's Monday, July 29, 2013.
Hundreds of fast food workers in New York City, Detroit, Chicago, St. Louis and other cities are walking off their jobs this week, demanding higher wages and the right to union protection. Strikers say their employers are subjecting them to unfair labor conditions while paying them a wage that's too low to live on.
For their part, officials from the National Restaurant Association, which represents many of the outlets where workers are protesting, say these restaurants operate on "very thin profit margins," and that raising wages could wind up hurting workers because it would hamper the companies' ability to hire.
"The restaurant industry provides opportunities for millions of Americans, women and men from all backgrounds, to move up the ladder and succeed," Scott DeFife, the executive vice president of Policy & Government Affairs at the National Restaurant Association, wrote in an email to The Huffington Post.
Officials from Wendy's and Burger King, both targets of the strikes, expressed similar sentiments in separate statements to HuffPost, saying that they provide good job opportunities for a diverse group of workers.
But the workers protesting their employers this week say they're getting paid too little for difficult and unstable work that offers limited opportunities for advancement. Below are five fast food workers who decided it was time to take to the streets.
Shenita Simon, 25, is a shift supervisor at a KFC in Brooklyn, N.Y., earning $8 per hour.

"We're barely surviving, if surviving at all," Simon said of her coworkers. Although her husband also has a job and she works more than 40 hours per week, "it's still not enough," to pay expenses for her family, including her three kids, she said.
"We need a surviving wage and we should have the right to a union; we should have things like medical benefits," she said.
"It made me feel really proud to know we're out here, we're making a difference, we're making history," she added. "No one has ever done this before. We're out here making a difference for our kids' future."
Kareem Starks, 30, is a McDonald's worker in Brooklyn, earning $7.25 per hour.
"I can't provide for my kids like that," Starks, who works about 30 hours per week on average, said of his wage. "How am I supposed to buy them school clothes? How am I supposed to make ends meet?"
Asked why he decided to take part in the strikes this week, Starks replied, "I feel like we deserve more."
"I just want some job security and to have my job be a stepping stone to make progress and do something better," he said. "If it's an entry-level job, then why do you have people working there 13 or 14 years and just making a little more than minimum wage?"
Collin Smytche, 22, is a Potbelly's worker in Chicago, earning $8.50 per hour.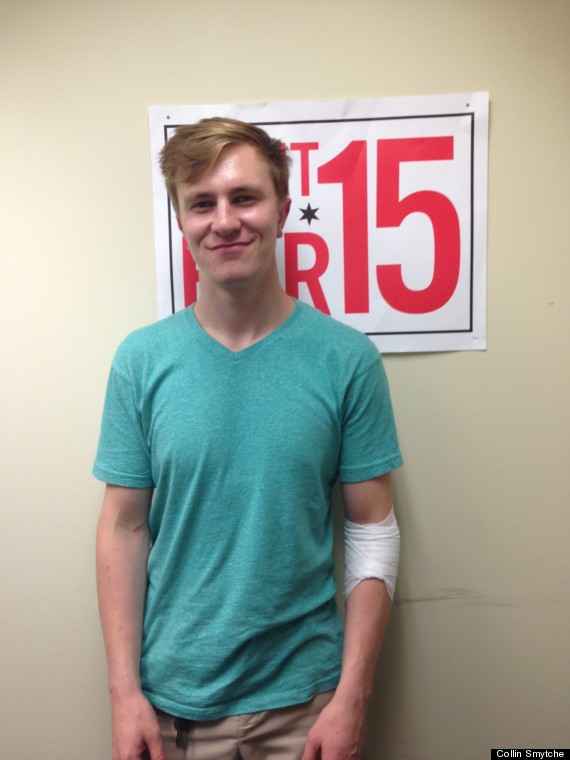 "I want a living wage and $8.50 an hour is not a living wage," Smytche said. "I can barely live off that."
After paying $200 per month for rent, $100 per month for public transportation and his student loan bills, Smytche says he barely has enough left to cover food.
He said he hopes to get a little more respect from his boss after taking part in the strikes. "After this action, we're going to get a lot of people on board, because they're going to understand it's our right to strike," he said.
Lawanda Singletary, 28, is a Wendy's worker in St. Louis, Mo., earning $7.35 per hour.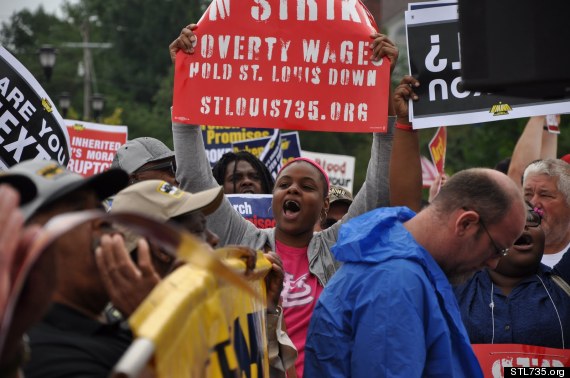 "I make $7.35 an hour and that's not even enough to cover my rent," said Singeltary, who is a single mother of four. "I can't do certain things for my kids."
"It's hard and we're just sick of it — something needs to happen," she said. "I hope the minimum wage goes up. If we keep doing this, it's going to happen and that's what we deserve."
Terrance Wise, 34, is a Burger King and Pizza Hut worker in Kansas City, Mo., earning $9.30 and $7.47 an hour, at those respective restaurants.
"I'm working two jobs, my fiancée is working two jobs and yet we're homeless," Wise, a father of three, said. He and his fiancée used to own their home, but after his hours were cut they couldn't afford to pay their bills and ultimately lost the house.
"The whole thing stinks," he said. "We don't have to take this, what the industry is handing us, which is pennies now."
Wise, who has only seen his wages rise moderately in the eight years he's worked at Burger King, said he's hoping the strikes will show customers that there's more to restaurant work than the smiles diners see when they walk in the door.
"The public's not aware," he said. "When we clock out and we leave that place, it's not always smiles, and people don't understand that."