MIAMI — U.S. Treasury officials say the trip by Beyonce and Jay-Z to Cuba was licensed as an educational exchange.
Assistant Treasury Secretary Alastair Fitzpayne wrote in a letter Tuesday to congressional representatives that the famous hip-hop couple traveled to Cuba with a group authorized by the Office of Foreign Assets Control to promote people-to-people contact in Cuba.
The letter was released Tuesday by U.S. Rep. Ileana Ros-Lehtinen
Ros-Lehtinen and U.S. Rep. Mario Diaz-Balart, both Florida Republicans, had expressed concerns to the Treasury Department about the trip and wanted to know if it was licensed.
Beyonce and Jay-Z marked their fifth wedding anniversary in Havana last week. U.S. citizens are not allowed to travel to Cuba for mere tourism, though they can obtain licenses for academic, religious, journalistic or cultural exchange trips. The so-called people-to-people licenses were reinstated under the Obama administration.
Legendary rapper L.L. Cool J. and country crooner Brad Paisley have teamed up to create "Accidental Racist," a song so ridiculous and, well, arguably racist, that social media is questioning if it could possibly be satire.
Released Monday, one day before Paisley's album "Wheelhouse" hits stores, the track has been raked over the coals and mocked by Twitter users.
In an interview with an entertainment industry magazine Paisley said that the song grew from racial inequality and suspicion.
What's even most astounding is that in explaining this song, Paisley described why it was probably not a good idea to be on the record.
Roger Ebert had the most-watched thumb in Hollywood.
With a twist of his wrist, the Pulitzer Prize-winning critic rendered decisions that influenced a nation of moviegoers and could sometimes make or break a film.
The heavy-set writer in the horn-rimmed glasses teamed up on television with Gene Siskel to create a format for criticism that proved enormously appealing in its simplicity: uncomplicated reviews that were both intelligent and accessible and didn't talk down to ordinary movie fans.
Ebert, film critic for the Chicago Sun-Times since 1967, died Thursday at the Rehabilitation Institute of Chicago as he was getting ready to go home for hospice care, his wife, Chaz, said in a statement posted on his blog Thursday. He was 70.
Two days earlier, Ebert had announced he was undergoing radiation treatment for a recurrence of cancer.
"So on this day of reflection I say again, thank you for going on this journey with me. I'll see you at the movies." Ebert wrote Tuesday on his blog.
Despite his wide influence, Ebert considered himself "beneath everything else a fan."
"I have seen untold numbers of movies and forgotten most of them, I hope, but I remember those worth remembering, and they are all on the same shelf in my mind," Ebert wrote in his 2011 memoir titled "Life Itself."
After cancer surgeries in 2006, Ebert lost portions of his jaw and the ability to eat, drink and speak. But he went back to writing full time and eventually even returned to television. In addition to his work for the Sun-Times, he became a prolific user of social media, connecting with hundreds of thousands of fans on Facebook and Twitter.
Ebert's thumb — pointing up or down — was his trademark. It was the main logo of the long-running TV shows Ebert co-hosted, first with Siskel of the rival Chicago Tribune and — after Siskel's death in 1999 — with Sun-Times colleague Richard Roeper. A "two thumbs-up" accolade was sure to find its way into the advertising for the movie in question.
The nation's best-known movie reviewer "wrote with passion through a real knowledge of film and film history, and in doing so, helped many movies find their audiences," director Steven Spielberg said. His death is "virtually the end of an era, and now the balcony is closed forever."
In early 2011, Ebert launched a new show, "Ebert Presents At the Movies." The show had new hosts and featured Ebert in his own segment, "Roger's Office." He used a chin prosthesis and enlisted voice-over guests or his computer to read his reviews.
Fans admired his courage, but Ebert told The Associated Press that bravery had "little to do with it."
"You play the cards you're dealt," Ebert wrote in an email in January 2011. "What's your choice? I have no pain. I enjoy life, and why should I complain?"
Always modest, Ebert had Midwestern charm but stuck strongly to his belief that critics honestly tell audiences "how better to invest two hours of their lives."
On the air, Ebert and Siskel bickered like an old married couple and openly needled each other. To viewers who had trouble telling them apart, Ebert was known as the fat one with glasses, Siskel as the thin, bald one.
Ebert favored blue sweater vests and khakis. After his surgeries, he switched to black turtlenecks and white, film director-style scarves.
Joining the Sun-Times part-time in 1966, he pursued graduate study at the University of Chicago and got the reviewing job the following year. His reviews were eventually syndicated to several hundred other newspapers, collected in books and repeated on innumerable websites, which would have made him one of the most influential film critics in the nation even without his television fame.
His 1975 Pulitzer for distinguished criticism was the first, and one of only three, given to a film reviewer since the category was created in 1970. In 2005, he received another honor when he became the first critic to have a star on the Hollywood Walk of Fame.
Ebert's breezy and quotable style, as well as his deep understanding of film technique and the business side of the industry, made him an almost instant success.
He soon began doing interviews and profiles of notable actors and directors in addition to his film reviews — celebrating such legends as Alfred Hitchcock, John Wayne and Robert Mitchum. Ebert also offered words of encouragement for then-newcomer Martin Scorsese, who was one of three filmmakers working on a bio-documentary about Ebert at the time of his death.
In 1969, Ebert took a leave of absence from the Sun-Times to write the screenplay for "Beyond the Valley of the Dolls." The movie got an "X'' rating and became somewhat of a cult film.
Ebert's television career began the year he won the Pulitzer, first on WTTW-TV, the Chicago PBS station, then nationwide on PBS and later on several commercial syndication services.
And while Siskel and Ebert may have sparred on air, they were close off camera. Siskel's daughters were flower girls when Ebert married his wife, Chaz, in 1992.
"He's in my mind almost every day," Ebert wrote in his autobiography. "He became less like a friend than like a brother."
Ebert found a professional and personal partner in Chaz, who acted as his co-producer. During television interviews, he often used his computer voice to tell her "I love you."
She returned the sentiment, telling Ebert during the final dress rehearsal for "Ebert Presents at the Movies" that he had an "indomitable spirit."
"And you know that's right," Chaz Ebert told her husband. "Because people would have understood totally if you decided never to do any of this again."
"I've lost the love of my life," Chaz Ebert said in her statement Thursday, "and the world has lost a visionary and a creative and generous spirit who touched so many people all over the world. We had a lovely, lovely life together, more beautiful and epic than a movie. It had its highs and the lows, but was always experienced with good humor, grace and a deep abiding love for each other."
Ebert was also an author, writing more than 20 books that included two volumes of essays on classic movies and the popular "I Hated, Hated, Hated This Movie," a collection of some of his most scathing reviews.
The son of a union electrician who worked at the University of Illinois' Urbana-Champaign campus, Ebert was born in Urbana on June 18, 1942. The love of journalism, as well as of movies, came early. Ebert covered high school sports for a local paper at age 15 while also writing and editing his own science fiction fan magazine.
He attended the university and was editor of the student newspaper. After graduating in 1964, he spent a year on scholarship at the University of Cape Town in South Africa and then began work toward a doctorate in English at the University of Chicago.
Ebert's hometown embraced the film critic, hosting the annual Ebertfest film festival and placing a plaque at his childhood home.
In the years after he lost his physical voice, Ebert was embraced online. He kept up a Facebook page, a Twitter account with more than 800,000 followers and a blog, Roger Ebert's Journal.
He posted links to stories he found interesting, wrote long pieces on varied topics, not just film criticism, and wittily interacted with readers in the comments sections. He liked to post old black-and-white photos of Hollywood stars and ask readers to guess who they were.
"My blog became my voice, my outlet, my 'social media' in a way I couldn't have dreamed of," Ebert wrote in his memoir. "Most people choose to write a blog. I needed to."
Writing in 2010, he said he did not fear death because he didn't believe there was anything "on the other side of death to fear."
"I was perfectly content before I was born, and I think of death as the same state," he wrote. "I am grateful for the gifts of intelligence, love, wonder and laughter. You can't say it wasn't interesting."
LOS ANGELES — Halle Berry is pregnant.
A representative for the 46-year-old actress confirms that Berry and her fiance, Olivier Martinez, are expecting their first child together.
Publicist Meredith O'Sullivan Wasson offered no other details.
Berry and Martinez announced their engagement last year. Berry has a daughter with her ex-boyfriend, Gabriel Aubry. The two settled their custody battle over the 5-year-old in November.
This is the first child for Martinez.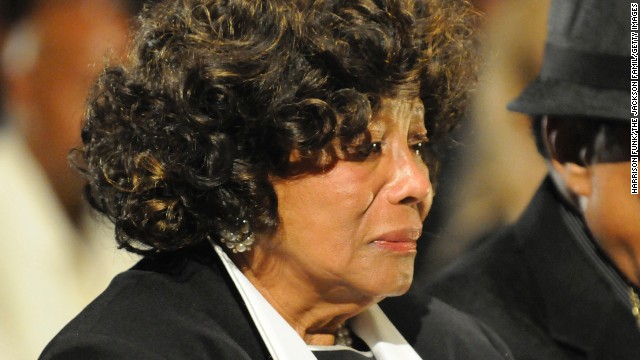 Katherine Jackson: Michael's mother, 82, was deposed for nine hours over three days by AEG Live lawyers. As the guardian of her son's three children, she is a plaintiff in the wrongful death lawsuit against the company that promoted Michael Jackson's comeback concerts.
by Alan Duke for CNN
<<
<
1
2
3
4
5
6
7
8
9
10
11
12
13
14
15
>
>>
STORY HIGHLIGHTS
Michael Jackson's mom and kids claim AEG Live is liable in his death
The suit accuses AEG Live of the negligent hiring of Dr. Conrad Murray
Murray was Jackson's employee, not AEG Live's, promoter's lawyer says
Jury selection begins Tuesday in a Los Angeles court
He was convicted of causing the death of pop star Michael Jackson. Now, Dr. Conrad Murray tells his side in his first TV interview from jail.
Watch the "AC360º" exclusive Tuesday at 8 p.m. ET on CNN.
Los Angeles (CNN) -- Michael Jackson's last concert promoter will defend itself in a wrongful death lawsuit filed by the pop icon's family by arguing that Jackson was responsible for his own demise.
Child molestation accusations against Jackson, for which he was acquitted after a trial, and evidence of his drug addiction will likely be presented by AEG Live's lawyers as they argue that the company had no liability in his death.
The Jackson v. AEG Live trial, which could last two or three months, begins in a Los Angeles courtroom Tuesday.
Jackson died two weeks before his "This Is It" comeback concerts, organized by AEG Live, were to have debuted in London in the summer of 2009.
"I don't know how you can't look to Mr. Jackson's responsibility there," AEG lawyer Marvin Putnam said. "He was a grown man." Putnam was interviewed for "Michael Jackson: The Final Days," a CNN documentary that will premiere at 10 p.m. Friday.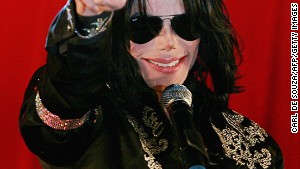 Michael Jackson's family suing promoter
"Mr. Jackson is a person who was known to doctor shop," Putnam said. "He was known to be someone who would tell one doctor one thing and another doctor something else."
The child molestation trial is relevant because it "resulted in an incredible increase in his drug intake," Putnam said.
Jackson's eccentricities are fair game, AEG Live says
"We're talking about Michael Jackson," Putnam said. "This is a man who would show up in pajamas. This is a man who would stop traffic and get out and dance on top of his car. This is a man who would go to public events with a monkey named Bubbles. This is a man who said he slept in an oxygen chamber."
Lawyers for Jackson's mother, Katherine, and children, Prince, Paris and Blanket, argue that AEG Live is liable because the company hired and supervised Dr. Conrad Murray, who used a surgical anesthetic in a fatal effort to treat the singer's insomnia as he prepared for the comeback concerts. Murray was convicted of involuntary manslaughter and is serving a prison sentence.
Los Angeles County Superior Court Judge Yvette Palazuelos ruled in February that Jackson lawyers have shown enough evidence to warrant a jury trial on the negligent hiring case. She also ruled there was evidence to support the Jacksons' claim that AEG Live executives could have foreseen that Murray would use dangerous drugs in treating the singer.
The lawsuit seeks a judgment against AEG Live equal to the money Jackson would have earned over the course of his remaining lifetime if he had not died in 2009. If AEG Live is found liable, it could cost the company several billion dollars, according to estimates of Jackson's income potential. AEG Live is a subsidiary of AEG, a global entertainment company that was up for sale recently with an $8 billion asking price.
The judge will hear arguments for television cameras in the Los Angeles courtroom just before jury selection starts Tuesday morning. While the Jackson lawyers are expected to support CNN's request to televise the trial, AEG lawyers say they are worried it could create a fan "frenzy" outside the courthouse.
Prince and Paris Jackson to testify about dad's last days
The wrongful death trial, which could last several months, is expected to include testimony from Jackson's mother and his two oldest children, Prince and Paris.
Putnam questioned why their lawyers would call them to testify, suggesting it was "for the emotional response."
"I can't understand why bringing them to the stand has anything to do with whether or not Dr. Conrad Murray was hired by AEG or hired negligently. But perhaps they're bringing them to the stand for different reasons."
Paris Jackson questioned about dad's death in lawsuit
He bristled at the allegation, made by the Jackson lawyers in a court filing last month, that he was "behaving aggressively and erratically" in his questioning of Prince Jackson.
"We went out of our way to ensure we did precisely not that," Putnam said. "They may want to try to make the world believe that AEG Live is doing something inappropriate as to these children, but I'd ask the world to pause for a moment and look at what's actually happening here. They're the ones who are bringing this lawsuit and they're the ones who are saying they're going to put these children on the stand, something that I'm relatively certain their father would never, ever want to occur."
Jackson lawyers, he said, "are trying to sensationalize things that never happened" with their allegations about the way Prince was treated, he said. "I think in that scenario they're going to try to whip things up into a frenzy in the hopes that justice will not be served."
The only way AEG Live can lose the case, he said, "would be on an emotional basis outside of the facts."
Murray worked for Michael Jackson, not AEG, lawyer says
The key to AEG Live's defense is its contention that Murray was never an AEG employee but rather was chosen and paid by Michael Jackson for nearly four years until Jackson died.
While Murray has indicated he would invoke his Fifth Amendment right to avoid answering questions, Putnam pointed to the interview the doctor gave to police two days after Jackson's June 25, 2009, death. Murray told detectives it was his understanding that he was Jackson's employee, not AEG Live's, even though the concert promoter would be the party cutting his paychecks.
Conrad Murray says he won't testify in Jackson trial
"He was chosen by Michael Jackson," Putnam said. "He was brought to Los Angeles by Michael Jackson. He had been Michael Jackson's long-time physician and continued in that capacity and was directed by him and could only be fired at will by him."
AEG Live became involved with Murray only after Jackson had persuaded him to join his "tour party" for the "This Is It" concerts, Putnam said. "Then what happens is AEG starts to go back and forth with him and his attorney, Dr. Conrad Murray, with drafts of contracts."
Although Murray began treating Jackson six days a week in May, it was only the night before Jackson's death that Murray signed a contract. AEG executives and Jackson never signed it, Putnam said. The Jackson lawyers will argue the signed contract was not necessary to establish employment.
The unsigned contract and the oral understanding with Murray called for the doctor to be paid $150,000 a month while he served as Jackson's personal physician while he performed 50 shows at London's O2 Arena in the second half of 2009 and into 2010.
AEG's role was like MasterCard, lawyer says
AEG Live's role with Murray was only to "forward" money owed to him by Jackson, just as a patient would use their "MasterCard," Putnam said. "If you go to your doctor and you pay with a credit card, obviously MasterCard in that instance, depending on your credit card, is providing the money to that doctor for services until you pay it back. Now, are you telling them MasterCard in some measure in that instance, did MasterCard hire the doctor or did you? Well, clearly you did. I think the analogy works in this instance."
In fact, Putnam said, he learned during the discovery process that Michael Jackson was paying Murray during the last two months of his life. "He was paying for him during his entire time in Los Angeles and during the time we're talking about, Dr. Conrad Murray was being paid by Michael Jackson," he said. "We know this. We know this because the plaintiffs have said so."
The revelation that Jackson paid Murray during that period has not been reported. Jackson lawyers declined to comment, citing ethical limitations to their ability to talk to the media about the case.
E-mails reveal AEG's involvement, Jacksons say
A cornerstone of the Jacksons' case is an e-mail AEG Live Co-CEO Paul Gongaware wrote 11 days before Jackson's death. The e-mail to show director Kenny Ortega addressed concerns that Murray had kept Jackson from a rehearsal the day before: "We want to remind (Murray) that it is AEG, not MJ, who is paying his salary. We want to remind him what is expected of him."
Jackson lawyers argue the e-mail is evidence that AEG Live used Murray's fear of losing his lucrative job as Jackson's personal physician to pressure him to have Jackson ready for rehearsals despite his fragile health.
The AEG Live lawyers say the Jackson lawyers have "taken it completely out of context." Gongaware and the others were only concerned with making sure Murray had all the help he needed, such as perhaps a physical therapist or a nutritionist for his patient, Putnam said.
Alleged 'smoking gun' e-mail revealed
"Not only was there no such pressure, there couldn't be in a professional relationship," Putnam said in his CNN interview. "To say that that was the case would say that a doctor in some measure was not abiding by his Hippocratic Oath. If there's a professional who's providing a service for you, others outside of that professional relationship may go to that person, as you might any doctor and say, 'Are you doing all the things necessary for Mr. Jackson?' That doesn't apply pressure or control."
Ortega, who had worked closely with Jackson on previous tours, sounded a loud warning about his health after Jackson showed up for a rehearsal shivering just over a week before his death. He wrote in an e-mail to AEG Live President Randy Phillips: "It is like there are two people there. One (deep inside) trying to hold on to what he was and still can be and not wanting us to quit him, the other in this weakened and troubled state. I believe we need professional guidance in this matter."
In the e-mail, which was disclosed during Ortega's testimony at Murray's criminal trial, the show director also said he was worried about "real emotional stuff" Jackson appeared to be dealing with. "Everything in me says he should be psychologically evaluated," he wrote. Ortega said Jackson had "strong signs of paranoia, anxiety and obsessive-like behavior" and suggested they hire a "top psychiatrist in to evaluate him ASAP."
AEG Live worried about the flu, not drugs, lawyer says
The Ortega e-mail was not sounding an alarm about Jackson's health but just telling Phillips that Jackson was suffering "flu-like symptoms," Putnam said.
"Mr. Jackson was not in a position to get up on the stage and do the rehearsal because he had flu-like symptoms," Putnam said. "He was cold, he was shaky and as a result he didn't perform that evening."
"People were worried about that flu," so AEG Live executives called a meeting with Jackson and Murray the next day at Jackson's home to discuss it, he said.
"So Mr. Phillips went to that meeting at Mr. Jackson's home, that would be on the 20th of June, that's five days before Mr. Jackson passed," Putnam said. "And they got there, and Mr. Jackson was emphatic about the idea that he was great. 'You guys are all worrying about nothing. Look at me. I am fine.'"
Phillips sent Ortega a glowing endorsement of Murray: "This doctor is extremely successful (we check everyone out) and does not need this gig so he is totally unbiased and ethical."
The flu scare was one of only "a couple of occasions" that AEG Live's president had to be concerned about Jackson's health, Putnam said.
Other than "little instances like that," there "was nothing that ultimately gave rise any time before Mr. Jackson's death that there was any problem with Mr. Jackson," he said.
AEG Live would not have rushed Jackson, lawyer says
If there had been a health problem with Jackson, AEG Live would have had no problem postponing the start of the tour, he said.
"AEG Live had already moved the concerts because they weren't going to be ready in time for early July because of the number of set pieces Mr. Jackson wanted," he said. "There would be no rush for AEG Live to have to get to the stage by, I think at that point, by July 13th. If there was a problem here AEG wanted to know there was a problem because they could simply move the concerts."
The 50 shows were to be spread out over a year in the O2 Arena, which AEG owned and controlled, he said. "AEG had no interest in rushing to get to July 13th. On the contrary, if there was an issue they would have wanted to know."
What did Randy Phillips know?
An earlier e-mail leaked to the Los Angeles Times last year suggests that AEG Live's president saw Jackson's problems first-hand the day the pop star was to appear at the O2 Arena to publicly announce the shows. "MJ is locked in his room drunk and despondent," Phillips wrote in a March 5, 2009, e-mail to AEG Live's parent company, the paper reported. "I (am) trying to sober him up."
"I screamed at him so loud the walls are shaking," Phillips wrote. "He is an emotionally paralyzed mess riddled with self-loathing and doubt now that it is show time."
Despite this, Putnam insisted that Phillips was "incredibly impressed" and "saw a really engaged, interested, very smart, and savvy Michael Jackson."
Michael Jackson's assistant accuses promoter
The AEG Live chief had only "certain limited encounters" with Jackson in the months leading up to the scheduled shows, but he did get glowing reports, Putnam said. "Mr. Phillips kept hearing from various people in the tour party from rehearsals, and practices and meetings with various promoters, meetings with people who were going to do clothes, makeup, things of that nature," he said. "It was the same, that Mr. Jackson was incredibly engaged, was incredibly interested and seemed great."
AEG Live executives also had "no indication at any point that there was a problem with Conrad Murray," Putnam said. "He was licensed in four states. He had never been reprimanded. There were no indicators or warning signs of a problem. "
"Mr. Phillips had met him once, and he seemed quite happy that this was a fine, outstanding doctor in all appearances and he liked that fact," Putnam said. "And he liked that fact that he didn't appear to be a sycophant."
Trial judge thinks Jackson may have a case
Palazuelos, in her ruling rejecting an AEG Live's request to have the case thrown out, said she agreed that the Jackson lawyers had provided evidence that AEG Live didn't do "a sufficient background check of Dr. Murray, which would have established that Murray was deeply in debt."
Jackson's previous relationship with Murray, who treated him and his children for minor illnesses in Las Vegas, did not relieve AEG Live of liability, "although the fact may be relevant in determining proportional liability and damages," she said.
While the AEG Live lawyers argued the company could not have foreseen that Murray might use dangerous drugs on Jackson in preparation for the tour, Palazuelos said there was evidence that Gongaware had "previous tour experiences" with Jackson in which "tour doctors" gave "large amounts of drugs/controlled substances to him."
Gongaware testified in Murray's trial that he worked as tour manager for Jackson's "Dangerous" and "History" tours before joining AEG Live. The judge cited "Gongaware's general knowledge of the ethical issues surrounding 'tour doctors' and the practice of administering drugs to performing artists."
"There is a triable issue of fact as to whether it was foreseeable that such a physician under strong financial pressure may compromise his Hippocratic Oath and do what was known by AEG Live's executives to be an unfortunate practice in the entertainment industry for financial gain," the judge wrote.
CNN's Don Lemon and Rachel Wells contributed to this report.
Subcategories